Prof. Dr.-Ing. Udo Frese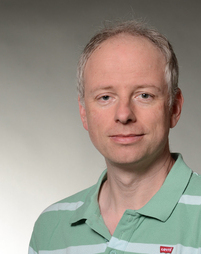 Since March 2014 Udo Frese is professor for multi-sensorial interactive systems at University of Bremen. He is member of the high-profile area Minds, Media, Machines.
Udo Frese has studied computer science in Paderborn and then worked as a researcher at the German Aerospace Center (DLR). He received his Ph.D. from Friedrich-Alexander-University Erlangen-Nürnberg. His thesis presented treemap, a highly efficient algorithm for simultaneous localization and mapping (SLAM), i.e. for estimating global maps from local observations. In 2008 he became assistant professor for real-time computer vision at University of Bremen.
Udo Frese's area of interest is multi-sensor fusion in particular involving computer vision as one data source and robotics. Possible applications are industrial quality assurance, creating 3D models of an environment with a moving camera, visual perception in sport robotics or interactive entertainment. Udo Frese is also working in the field of safety related algorithms processing sensor data, such as collision avoidance of autonomous ground vehicles.
Further Information
Address
Prof. Dr.-Ing. Udo Frese
Universität Bremen
Enrique Schmidt Str. 5
D-28359 Bremen



phone: (+49) 421-218-64207
fax: (+49) 421-218-98-64207
Office: Cartesium 0.57

Keywords
homepage, SLAM, Simultaneous Localization and Mapping, treemap, sport robotics, real time computer vision, RoboCup