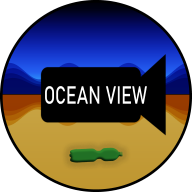 Meeresblick
Marine observations, especially over longer periods of time, are often difficult, time-consuming and cost-intensive.
However, it's becoming important to record the state of our oceans, waters and coastlines and to follow their development over longer periods of time. These observations are of interest in a global context, where they may pertain to climate change, but also locally to assess pollution.
For this purpose it will be assessed which coasts, harbours and beaches are already equipped with adequate instruments. It will be tried to categorize some of these instruments or sensors, according to their suitability for the intended observations. Furthermore an exemplary selection of sensors shall be evaluated. This can be done directly, e.g. for image detection of plastic waste. It can be assumed that not all cameras are optimally suited for these tasks. We developed a method that detects trash on camera images and quantifies the polluted area of the beach. Also a certificate was introduced, allowing to register cameras usable by our procedure. Furthermore it should be possible for anyone who wishes to register a camera at our website and view the evaluation of the observed area.
Learn more about the project on our website https://www.meeresblick.uni-bremen.de/