---
Welcome to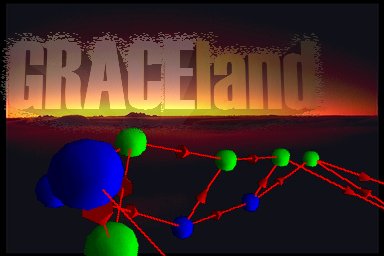 GRACEland is the first implementation of the graph and rule centered language GRACE. The language is being developed by researchers from Aachen, Berlin, Bremen and Leiden. The implementation is part of my diploma thesis and offers an integrated development suite for GRACE. It contains several editors for graphs, graph rules and GRACE programs. The integrated interpreter allows you to execute the programs and see what is happening.

GRACEland follows a new way in editing and executing programs by using a Virtual Reality user interface. The threedimensional interface offers new ways to organize graphs and also graph rules. Position vertices as in reality and give them a useful geometry.

GRACEland or the underlying language GRACE contains features like:

approach independence,
graph class independence,
structuring methods modules (the first graph transformation system that uses modules) and transformation units,
Virtual Reality user inferface,
HTML export filter for GRACE programs,
generic layout algorithm interface
and many more...

More information on the following pages:

Some pages are using the Portable Network Graphics (PNG) file format which can't be read by every browser. I recommend to use the Netscape Communicator 4.04 or higher.
---

Last modified on 24th of June 1998. Copyright by Martin Faust